The 2022 Subaru Love Promise Customer and Community Commitment Award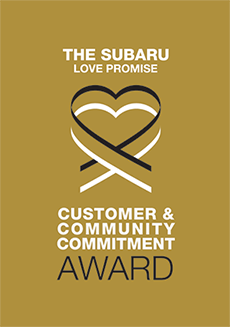 We've been nationally recognized for our dedication to our customers, our community, and the Subaru Love Promise.
We're honored to receive the 2022 Subaru Love Promise Customer and Community Commitment Award. This award nationally recognizes elite Subaru retailers who provide an exceptional customer experience at every interaction with Subaru. These retailers have also demonstrated an outstanding commitment to supporting passions and causes in their local communities in important areas such as the environment, community, health, education, and pets.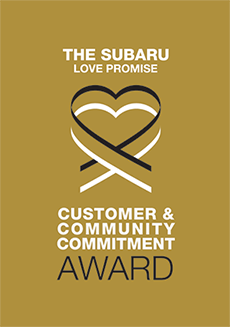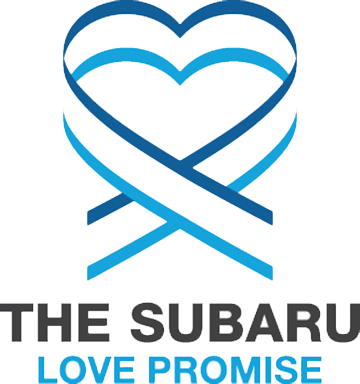 What is the Subaru Love Promise?
Subaru and our retailers believe in making the world a better place and the Subaru Love Promise is our vision of respecting all people. This is our commitment to show love and respect to our customers and to work to make a positive impact in the world.
How is Uftring Subaru dedicated locally to the Love Promise?
Our Love Promise can be seen in various partnerships with local charities and non-profits. We're grateful for the opportunity, not only to be a part of our community, but to serve it as well.
Love Promise Stories from Uftring Subaru
Subaru and Uftring Subaru believe in making a positive impact on the communities in which we live and work. We uphold that belief through our Love Promise Community Commitment. Every month, we select inspiring stories from customers and partners from around our area who strive to support our collective commitment and feature them here
Make a Dogs Day Event - Kitty Y
Thank you to Uftring Subaru for supporting the adoption of dogs during the 2021 Make A Dogs Day Event. The Peoria Humane Society received a $3,170 donation and an additional $1.000 in pet food donations for a grand total of $4,170 in support. This generous gift allowed us to feed dogs and cats who would otherwise go hungry and adopt dogs into loving families who would otherwise be homeless in our community. One special little dog named Tater Tot found his forever home, thanks in part to the support of our friends at Uftring Subaru. Abandoned and injured, Tater Tot came into our local animal shelter with a shattered leg and broken tail. Struggling to walk and in pain, he needed surgery. Thanks to the generousity of community partners like Urtring Subaru, we are happy to say Tater Tot, now know as Doctor Bones, is enjoying running and playing with his family's 3 dogs and 2 cats. THANK YOU Uftring Subaru - couldn't do what we do without you!
---
Paws Giving Independence thanks Uftring Subaru - Donna K
Paws Giving Independence is an all volunteer organization located in Peoria, Il. We train service dogs for children and adults at a variety of ability levels. We train dogs mainly for wheelchair/mobility and medical response as well as facility dogs for local schools and centers. We know our families have medical bills and expenses related to their disabilities so we place our dogs free of charge. Since we are all volunteers we don't have to pay salaries, but we do need to cover the expenses of the dogs in training, vet costs, special bracing harnesses, flea and heartworm medication, leashes, training collars, vests, food, and other equipment needed for training and placement. Uftring Subaru came to us at a time when it was difficult to cover those costs. We were a small organization, just starting out and not sure if we could move forward. They have donated almost $60,000 to our organization over the years which has allowed us to train and place more dogs knowing we had those funds available. We have been able to help recipients who have Cerebral Palsy, Parkinson Disease, MS, Muscular Dystrophy, spinal chord injuries and those with other mobility issues. Recently we have placed dogs with two young women who lost a leg due to their cancer and their dogs are helping them gain their independence back. We are working with families whose children have seizures and their dogs are being trained to help them during a seizure and to alert the parents when a seizure is happening giving them a sense of comfort that the dog is there to help. One of our Subaru named dogs, Ru, started working with his recipient last night, a high school student who needs help with medical response. They will train together for several months before placement. We have placed facility dogs with counselors and special education teachers in many local schools and they work throughout the schools to help their students in many ways. Facility dogs can be used as a calming factor when anxiety arises, they are used in physical therapy, occupational therapy and speech therapy to make it more enjoyable and they can help motivate the hesitant child. They have helped students who have gone through trauma. We are also currently working to place our first courthouse dog to help victims and witnesses to crimes feel more comfortable both when giving their statements and while testifying in court. Mr. Uftring and the entire staff has gone out of their way to not only help us monetarily, but they have welcomed us to the Uftring family and they help to spread the word about our mission enabling us to find new recipients and volunteers. Our dogs were even in an Uftring commercial a few years ago. If Uftring had not reached out to help us 8 years ago I don't if we would have been able to get things going and keep things going. Even as an all volunteer organization there are a lot of expenses related to training these dogs. Knowing we would get this donation helped us to bring in more dogs to train so we could help more people. Fundraising has been difficult during the pandemic and they even sent us additional funds last year just because they knew non profits were struggling. They do so much not only to help PGI, but they help so many charities throughout our area. They are known for their generosity. They truly care about our community. We are so grateful to Uftring Subaru for their continued support. Thank you Uftring Subaru!!!
---
Subaru Loves Pets - Peoria County An Prot Svces - Rebecca S
On 9/21/21 a good Samaritan called PCAPS Animal Control to pick up an adorable, injured puppy. Animal Control Officer Mallow responded and picked up the happiest most wiggly puppy that later came to be known as Tater Tot. Despite the fact that Tater Tot was full of life, he was clearly injured. His right rear leg just barely touched the ground with one toe as he walked, and his tail was clearly broken. Who knows what Tater Tot had endured before Officer Mallow arrived? He never let it slow him down; Tater Tot was full of life! Officer Mallow scooped up the puppy and quickly brought him to the shelter where he sought medical attention for a shattered hip and broken tail. The Peoria Humane Society helped PCAPS with the expenses of Tater Tot's care, and after some x-rays and some pain medication, it wasn't long before Tater Tot was recovering from surgery (to remove the head of the femur) and ready for a new home. Tater Tot's personality was so exceptional that a Technician from the Veterinarian's office where Tater Tot was treated, just couldn't resist adopting him. On 10/30/21 Tater Tot was adopted! His new family couldn't be happier. Tater Tot, now known as "Doctor Bones", is doing well and enjoys running and playing with his family's 3 dogs and 2 cats. Thanks to the support of our community partners, like Subaru, the Peoria Humane Society and PCAPS are able to make a difference for animals in need.
---
Paws Giving Independence - Uftring A
Paws Giving Independence rescues dogs from local shelters and trains them to be service dogs to assist people in need while providing support to encourage independence. Paws Giving Independence is run completely on public donations. We are unique because our service dogs are placed free of charge and we currently have no paid staff. Paws Giving Independence was chosen as the local charity during the Subaru Share the Love event. The $6500 donated to PGI by Uftring Automall and Subaru of America, Inc., Uftring Ambassador Initiative and their customers will help us save more dogs and get more dogs placed with their wonderful recipients. When we go to the dealership we always feel like we are visiting family. The entire team is so welcoming and it is fun to be with them. You can hear everyone laughing in the background, it is like visiting old friends. They don't just give us a check, they also care about what we do and want to meet our dogs and recipients. Thank you to all of you for choosing us again this year!
---