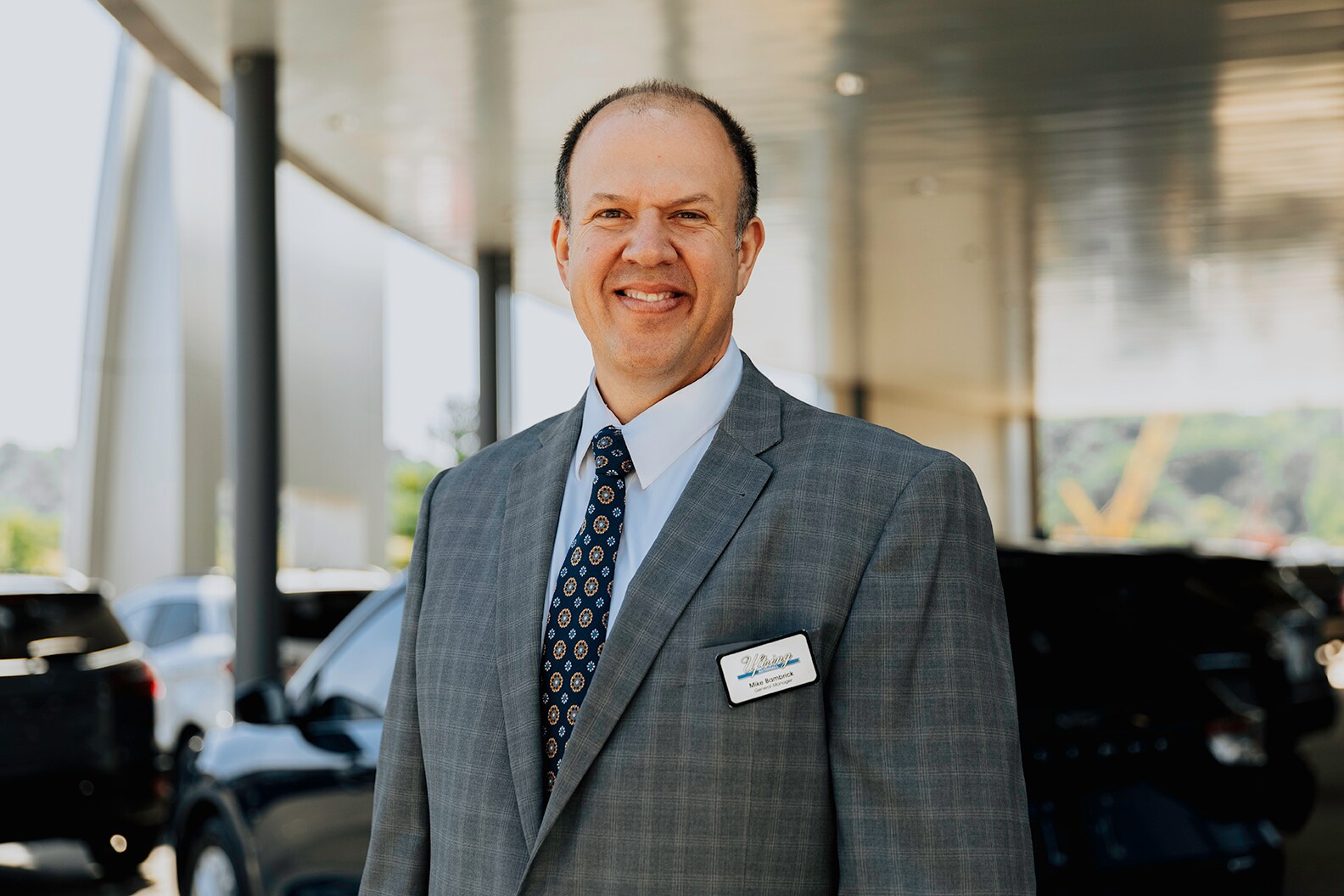 Uftring Subaru is a proud member of the Uftring Auto Group, one of Central Illinois' largest automotive groups. We pride ourselves on providing a stable, success-driven environment across all areas of our dealership. Uftring Subaru's job training programs, continuing education and emphasis on promotion from within provide many opportunities for growth, development and success. Uftring Subaru offers very competitive wages. We believe that compensation should relate directly to an individual's performance so that team members can be rewarded for superior performance. We strive to be honest, ethical, compassionate and professional in all facets of our business.
Some of our Benefits
Medical Insurance Plan with company participation

Dental Insurance Plan with company participation
Life Insurance Plan
Short Term Disability Insurance
Paid Vacations
Paid Personal / Sick Days
401(k) Plan
Attractive employee discounts on vehicles, parts & service
Paid Holidays
Career Builder Bonus and Incentive Programs for qualifying positions
Sales Consultant
Supervisor: Sales Manager
Responsibilities
Dress and behave in a professional manner 

Make daily appointments 

Plan each days schedule 

Set a goal and a action plan 

Prompt arrival and good attendance 

Complete required paperwork on each deal 
Qualifications
Professional attitude and appearance 

Good communication and organization skills 

Prior sales experience and a college degree preferred 

A desire to be the best and a commitment to customer satisfaction 

Able to work long hours 
This is not necessarily an exhaustive list of responsibilities, skill duties, requirements, efforts, or working conditions associated with the job. While this list is intended to be an accurate reflection of the current job the dealership reserves the right to revise the functions and duties of the job or to require that additional or different tasks be performed when circumstances change. 
Working Conditions
Will stand and move throughout the dealership facility (lot, showroom, service department, offices, etc) for most of shift. Will spend time outdoors showing vehicles to prospective customers and to drive vehicles in traffic during test drives. 
Hours
Evening and weekend hours will be required.
E.O.E.
Full-Time Subaru Technician
Department: Service 
Supervisor: Service Manager 
Salary: $18.00 to $23.00 /hour
Responsibilities
Determine work requested on repair orders
Perform repairs and document them
Road test vehicles to quality check
Keep abreast of manufacturers training
Maintain CSI levels established by manufacturer and dealership standards
Operate and test equipment, hoist and hand tools
Knowledge of and maintain a clean work area by OSHA and dealership service safety standards
Qualifications
Must have some line experience with one of the major manufacturers, does not have to be specific to Subaru
Ability to read and comprehend instructions and information
ASE Certification preferred
General mechanical skills with knowledge of all aspects of automobile repair and maintenance
Good judgment, ability to operate power and hand tools
Valid Illinois driver's license with an acceptable driving record
Hours
Monday through Friday- 8:00 a.m. until 4:30 p.m. 
Rotating Saturdays 8:30 a.m. until 12:00 p.m. (Every 3rd Saturday)
E.O.E.
Full-Time Diesel Technician
Salary: $15.00 to $25.00 /hour
Responsibilities
Diagnose and perform accurately all phases of vehicle repair
Removes, cleans, repairs, reinstalls and adjusts all vehicle components
Properly use and complete work orders
Select appropriate action for all vehicle repairs during the diagnostic process
Maintain assigned work areas in a safe and clean manner
Evaluates completed work and conducts final inspections prior to release.
Participation in all on going manufacturer training
Qualifications
Must have a valid Illinois driver's license and maintain an acceptable driving record
Must have the ability to interpret maintenance manuals, wiring and other manufacturer documents
Must be goal oriented
Ford or GM manufacturer experience
ASE or Manufacturers certification preferred
Prior Diesel experience required
Professional attitude and capable of working with customers
Maintain a clean and neat personal appearance
Must have a thorough working knowledge of diesel engines as well as gasoline engines
Hours   
Monday through Friday 8:00 a.m. until 4:30 p.m.
Every 3rd Saturday 8:00 a.m. until 12:00 p.m.   
E.O.E.
Parts Counterperson

Salary: $14/hour

Responsibilities

Assist walk in customers

Pull purchase parts from stock

Answer incoming calls, provide quotes, set up orders, deliveries, and pick ups

Verify "will calls" and back orders weekly

Assist service technicians

Order parts not in stock

Notify Service and Body Shop on special order parts

Keep current on new products and updates

Participate in training programs

Provide the same high level of service to the other dealerships departments as it given to other customers

Qualifications

Ability to read and comprehend instructions and information

One year of experience in an automotive parts department

Professional personal appearance

Ability to work well with public, sometimes with several customers at a time

Must have a valid Illinois driver's license with an acceptable driving record

Hours

Monday through Friday 7:00 a.m. until 5:30 p.m.

Rotating Saturdays

E.O.E.
Full-Time Body Shop Manager

Responsibilities

Understand, keep abreast of and comply with Federal, State and Local regulations that affect Body Shop operations

Attend Managers meetings and strive for teamwork with other departments

Hold departmental meetings periodically to discuss problem areas

Perform employee reviews

Assure quality of workmanship, maintain good customer relations through personal contacts and follow up calls

Maintain good relations with factory and insurance representatives

Assist technicians as needed

Determination of warranty and non-warranty claims

Control expenses and labor costs and maintain good working conditions in the department

Make sure all employees practice good safety habits

Complete accident forms as needed

Qualifications

Must have previous Body Shop experience with emphasis on leadership and management skills

Must have estimating experience

CCC Pathways experience preferred]

Must be capable of communication with customers of varying backgrounds, expressing sensitivity to their concerns and ensuring enthusiasm

Must have basic computer skills, knowledge of Reynolds and Reynolds as well as estimating software

Must be capable of working independently, effectively managing time and workflow

Must have a valid Illinois license with an acceptable driving record

Hours

Monday through Friday 7:30 a.m. until 5:30 p.m.

E.O.E.
Part-Time Body Shop Detailer

Part-time
Salary: $11.00 to $12.00 /hour



Responsibilities

Provide prompt, efficient cleaning of assigned vehicles in a timely manner

A 

display of commitment towards customer satisfaction

U

se safety precautions while handling all vehicles and maintain a clean safe work area

H

elp in the overall cleanliness of facility; empty garbage receptacles, empty outside ashtrays as needed

A

ssist sales in plate transfers and gas for customer deliveries

M

aintain lot appearance

Keep detail supplies stocked

General shop helper and shop cleaning

Qualifications

Professional, clean appearance

Some detailing experience preferred

Must have a valid Illinois driver's license with an acceptable driving record

Organized and able to work independently

Dependable and punctual

Have an eye for detail and a desire to provide a showroom ready product

Ability to take direction from several people and work on more than one task at a time

Hours

Monday through Friday- 12:00 p.m. until 5:00 p.m.




E.O.E.

Apply Now